MEMBERS - we need articles about fairs & auctions, especially those in the North. Tell us about interesting or rare Myott you own, have recently acquired or have seen for sale. Any historical articles are especially welcome. Add your news and send any related pics to Martin. You can have a nickname (set up in Edit Personal Details) if you wish to remain anonymous. You can remove your article at any time.


17/03/2008
New Art Deco Fairs Website
Reported by:
Martin
We have developed a new website designed to bring information of UK Art Deco Fairs together in one place. Take a look at http://www.artdecofairs.co.uk for news of all the Art Deco events throughout the year and also further information and contact details for the Art Deco fair event organisers.
13/12/2006
Rare Trumpet Jug
Reported by:
Martin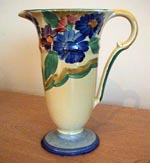 Every now and then we are surprised by a new Myott pattern turning up and this is a great example. Displaying pattern number 9732, this wonderful Trumpet Jug uses a wide colour palette including greens, blues purple, pink and yellow. The piece is 21.6cm (8.5inches) tall and is in super condition. Fully stamped with the Myott and B.A.G. marks, the jug has registration mark 779152. The item is up for sale on www.myott.mart.decoware.co.uk or click the Decoware link under 'Myott for sale'.
04/08/2006
Myott Factory - more info
Reported by:
Martin
Mike Basford has supplied some extra information, following on from the article below about the demise of Myott's factory in Stoke. The photograph of the factory was taken in 1930.

I noticed too that Churchill has a new tin factory on the way out of town, so they are still around at least. Doulton's factory is closed and coming down, although the on-site shop is still open, clearing out stock (some of which I noticed was marked "Made in China" ! Oh well, I guess that's the story of Stoke. The only other factory I checked out was Moorcroft, and they not only are still producing pottery, but still have a bottle kiln on display (although not in use, of course). The museum and archives are still there, thankfully !
29/07/2006
Myott Factory
Reported by:
Martin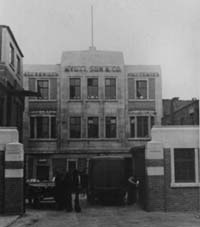 Myott admirer Mike Basford was in England a month ago and decided to visit the old Myott factory and was saddened to see that demolition had begun on the pottery. Unfortunately Mike was unable to gain access to the premises in order to pick up a souvenir.
09/07/2006
Take Your Pick from Rick
Reported by:
Martin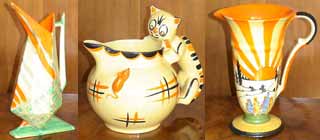 Art Deco dealer and old friend of the Club, Rick Hubbard, has a number of super Myotts listed on his website. Rick is selling this part-Myott-collection on behalf of a private collector.
Notable pieces of particular interest are a rare Beaky Jug, a rare Cat Handle Jug and a super-rare Trumpet Jug (this is the only one in this pattern that the Club has seen and has been part of Rick's Myott page design on his site for a number of years now). Also up for grabs are an interesting Globe Vase in blue (Ball Vase), a Top Hat Vase, a Scroll Handle Jug and a nice Sweet Seventeen Square Neck Jug.
02/05/2006
Woking Art Deco Fair Monday 17th April
Reported by:
Martin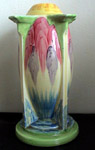 I haven't seen so much Myott at a fair for a long time as at Take Five Fairs April Art Deco and Nouveau Fair. The highlight of the event must be the superb Torpedo vase on the left, which sold on the day. It's one of the more rare and desirable patterns. Fully stamped with the Myott gold crown and pattern number 8979. There were about another twenty or so Myott items for sale including a round jug from Art Deco dealer Chris Bainbridge, a diamond vase, a couple of conical jugs and some pinch neck jugs.
The next Take Five Fairs Woking event is the Art Deco fair on bank holiday Monday 29th May. See the website for further details http://www.antiquefairs.co.uk
02/05/2006
Torpedos on Ebay
Reported by:
Martin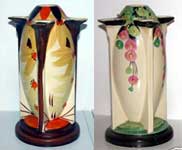 Two Myott torpedo vases have recently come up for auction on Ebay. The first is the more common orange, yellow and brown colourway displaying full Myott gold crown and pattern number 8980. The second is the more rare pink and green hanging flowers pattern which has a high percentage of the honey glaze remaining unpainted. This too displayed the gold Myott crown and is pattern number 9114. The orange, yellow and brown piece remained unsold.
18/04/2006
Trumpet Jug For Sale
Reported by:
Martin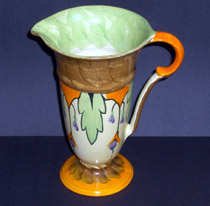 The trumpet jug (pictured left) is up for sale from Maria Kenyon for £65, the proceeds to go to her charity (CAFOD Catholic Agency for overseas development). The piece is fully stamped with the gold Myott crown and marked Myott Son & Co., England, B.A.G. Co. Ltd., Hand Painted and with pattern number P668 and registration number 779152.
The jug is 8 1/2 " talland in excellent condition.There is tiny flake in the paintwork on the foot but otherwise is in perfect condition.
If you are interested in the piece please email Maria directly at maria.kenyon@btinternet.com
07/03/2006
Nice example of Myott Diamond Vase
Reported by:
Martin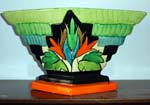 Thanks to Ebay's antjrich for sending the Club in some pictures of a super diamond vase currently up for auction on the Ebay website. The item is in good condition with very bright paintwork. If you require any further information just email the seller.
07/03/2006
Take Five Fairs Dual Art Deco and Glass Fairs Update
Reported by:
Martin
The scheduled Take Five Fairs Art Deco/Nouveau and Glass Fairs on Bank Holiday Monday August 28th and Thursday December 28th at Woking Leisure Centre will NOT now include the Glass Fair. They are still going ahead on these dates but will now just be Art Deco and Art Nouveau.
07/03/2006
Take Five Fairs Extra Art Deco and Art Nouveau Fair at Bristol
Reported by:
Martin
Take Five Fairs are happy to announce an extra Art Deco/Nouveau Fair to be staged at the Train Shed in Bristol on Sunday 12th November. After the success of our first Bristol Art Deco Fair, we are sure this will be a most enjoyable event for all.
26/12/2005
Woking Art Deco Fair Wed 28th December
Reported by:
Martin
Take Five Fairs Art Deco & Art Nouveau Fair is being held at Woking Leisure Centre alongside a Glass Fair on Wednesday 28th December from 9.30am to 4.00pm. Woking Leisure Centre, Woking Park, Kingfield Road, Woking, Surrey.
02/12/2005
Battersea Art Deco Fair - Sunday 27th November (Report by Nick Ainge)
Reported by:
Martin
Nick's words: "Battersea saw two diamonds, a conical jug, and a fan vase disappear along with a few other items. The fair is consitently good for me and ironically the first deco fair I ever did about 5 years ago now. I did pick up a very nice retro tea for two which I will send some shots of for reference soon."
Battersea Art Deco Fair is held at The Grand Hall, Battersea Arts Centre.
Nick is the leading Myott specialist dealer in the country.
22/11/2005
2 New Art Deco Fairs from Take Five Fairs
Reported by:
Martin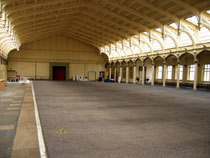 John Slade from Take Five Fairs has announced two great new Art Deco Fair venues for 2006 to run with his already established Woking events. The new venues are at Bristol and the Harlequins Rugby stadium at Twickenham. The Bristol event is to be held at Brunel's Passenger and Train Shed (pictured left), which is housed in the historic city of Bristol's award-winning Historic Railway Buildings, which are known locally as Temple Meads 'Old Station'. The area has been developed and now houses the British Empire & Commonwealth Museum featuring over 16 themed galleries. Since its construction in 1839, the Old Station has seen many changes. In the 1960's the buildings were in a state of total disrepair. Many years of extensive restoration rework have succeeded in saving Brunel's masterpiece and now 'The Train Shed' has been transformed in to one of the finest exhibition areas in Bristol. Inside 'Brunel's Train Shed' the exhibition space itself is large, tall and airy. There is easy access and level loading with parking available up to the venue doors. Temple Meads Station is located in the centre of Bristol and accessible by train from most areas of the country. There is also easy access from the M32, M4 and M5. John Slade of Take Five Fairs and Jo Talliss of Talisman/Jazz are confident that their new Bristol Grand Glass Fair on 22nd January 2006 and 2-day Art Deco & Nouveau Fair 25th-26th January will be a roaring success for 2006.

A brand new Art Deco and Art Nouveau Fair at Harlequins Rugby Stadium on the Chertsey Road (A316), Twickenham is the second great venue. The first Art Deco & Nouveau event will be held on Bank Holiday Monday 1st May 2006.

Hopefully there will be some good Myott turning up at these new events. Full details of dates and venues are available on the Take Five Fairs great new website www.antique fairs.co.uk
14/08/2005
Superb Coffee Set
Reported by:
Martin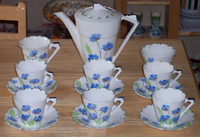 This marvellous Myott Art Deco coffee set is currently on Ebay listed by the ever-present Myott specialist Nick Ainge. Nick usually has something of interest for the Myott collector and this is no exception. It's a full set and undamaged – one from Nick's personal Myott collection. I think this shape of coffee set is up there with the likes of Susie Cooper and Clarice Cliff - I'm sure Nick and many a Myott admirer would agree.
In Nick's own words, "Stunning and beautiful set from my own collection in fantastic condition. No cracks or chips, paintwork is exceptional, just crazing as normal. Set is complete with pot, six cups and saucers, milk and sugar. Gold deco stamps from 1930s. Great display item and I suspect never used. This is a very strong pattern and one of the best I have seen, good luck."
Seller: decoseek/Item number: 7343439716/Ends: 7-day listing, Ends 21-Aug-05 15:37:45 BST
11/08/2005
New Shape Vase
Reported by:
Martin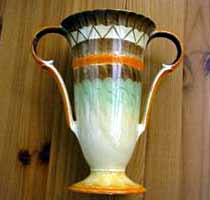 Thanks to Ebay's snorfell for letting the Club use this interesting picture of a new shape vase to the catalogue. It is based on the trumpet jug but has a second handle applied on the other side of the piece. It is 20cm (eight inches( tall and has the usual Myott gold crown mark. I suppose technically the application of another handle turns it back into a vase (there is a version with no handles which is obviously a vase too). I would like to propose it be called a 'two-handled trumpet vase' unless someone can think up a better name. Auction ends 14-Aug-05 17:53:24 BST.
08/08/2005
Response to request for pattern number
Reported by:
Martin
Thanks to Paul for informing the Club that the pattern number for the Stripes Diamond vase below is 8660 and not 8664 as was suspected.
03/08/2005
Pattern number required
Reported by:
Martin

Can anyone confirm the pattern number of this 'Stripes' diamond vase? A club member and Myott dealer Nick Ainge think it may be 8664.
20/07/2005
A Parliament of Owls
Reported by:
Martin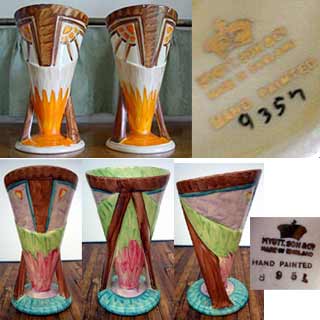 Not since the launch of the last Harry Potter film has there been seen so many owls in one place. That place is Ebay. There are a pair of Myott Owl vases up for auction by lyndonwild4jpd and a super-bright Owl auctioned by lynette20wade. Owl vases are named because the embossed design and often the pattern resemble the image of the bird. This is especially noticeable in the pair of Owls listed by lyndonwild4jpd. Alternative names include 'Rocket' and 'Sputnick'.

lyndonwild4jpd (Top row of pictures)
7-day listing, Ends 25-Jul-05 20:26:05 BST
A rare chance to own a pair of Owl vases which do look as if they have been together since day of original purchase. The decoration looks as if it has been applied by the same paintress. This pattern is the more common one (if the word 'common' can be applied to such a rare article!). Unfortunately one of the vases has a hairline which happens frequently in these pieces due to high stress levels in the design. This design is more reminiscent of an owl's face. Seller's description: "Pair of ultra rare vases. One is in perfect condition the other has a hairline crack and small flake as shown in the photographs. This is really a once in a lifetime opportunity to own not one but a pair of these ultra rare Myott vases. They have been in my collection for over 12 years and are being sold as I am disposing of my entire Myott collection to concentrate on other Art Deco pieces."

lynette20wade (Bottom row of pictures)
7-day listing, Ends 25-Jul-05 19:25:41 BST
In most Myott collectors' opinions this is a far supior example to the pair listed previously. A much rarer pattern including bright (highly sought-after) colours including; pink, green, mauve, yellow, orange, brown and the uncommon appearance of blue. In the words of the seller, "A rare 1930's Art Deco vase made by Myott. This vase is handpainted with typical art deco colours; pink, green, brown and orange. This vase has an unusual cylindrical shape and is marked to the base with a gold Myott backstamp, as well as bearing an impressed Myott mark. This vase is in good condition and is free from chips, cracks or restoration. This vase does however have some grazing, a few minor paint losses and a paint scratch (all typically found on Myott ware). This vase measures 7 1/4 inches in height and would enhance any art deco ceramic collection."

P.S. A 'parliament' of owls (from this articles headline) is the name given to a collective of the birds. Myott collectors especially quite often concentrate on specific shapes as opposed to patterns – probably because it's the jugs and vases that are the main attraction. One may concentrate also on other collectives such as a 'clowder of cat jugs', a 'rookery of penguin jugs', 'a brood of chicken necks', 'a fortification of castle vases', a 'necropolis of pyramid vases' (alternative: a 'hand of finger vases'). Perhaps one could apply to ball vases 'a load of balls!). There are a few others – I'll let you think those up. Happy bidding!
17/07/2005
Myott Lemonade Set
Reported by:
Martin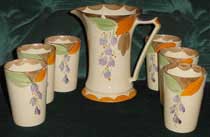 Thanks to Ebay's Ontario, Canada based times-a-tickin for letting us use this picture of a wonderful and complete Myott lemonade or cider set. Not often you get one with the six beakers still intact. The pitcher is 16.6cm (6.5 inches) tall by 21cm (7.25 inches) wide (including handle and spout). Each beaker is 10.2cm (4 inches) tall. Full gold Myott crown, HAND PAINTED, pattern number H8288, MADE IN ENGLAND.
17/07/2005
WANTED... WANTED... WANTED
Reported by:
Martin
Please would someone email me a high resolution/high quality image of a Myott Beaky Jug. This image may be used in a new book by Art Deco ceramics author Andrew Casey. Send to martin@myottcollectorsclub.com Thank you.
22/05/2005
Cube Ware Teapot
Reported by:
Martin
An interesting email from Calvin Pike relating to the Cube Ware article on the Club site.

While researching Foley china, I followed a link which led to a page on your website regarding cube teapots. As a former resident of Long Beach, and a not infrequent visitor of the Queen Mary, I can assure you that Cube ware is on display.

Before leaving Long Beach, I acquired three pieces from a local dealer: the larger teapot, the sugar pot, and what I now assume is the milk jug as it is the same height as the teapot. Of the three pieces, only the milk jug is stamped "souvenir".
19/05/2005
Global Ceramics Restoration
Reported by:
Martin
Many of our Club devotees will be interested in our latest 'shop' - Global Ceramic Restoration. They are a long established family run business specialising in the restoration of fine china, porcelain and pottery etc. Restoration work is completed to a very high standard with the majority of work being totally undetectable using professional techniques and materials.
Restoration work is undertaken on vases, jugs, bowls, tea ware and figurines etc. They are also experienced in china doll restoration including work on hands and arms etc.
They can repair cracks, chips, missing pieces, paint deterioration, glaze matching etc. Ordinary everyday items can be repaired cheaply to a functional standard of reassembly if required.
They have undertaken work for many private collectors in varied fields including dealers, museums and art institutions worlwide.
Some factory names worked on include Clarice Cliff, Susie Cooper, Carltonware, Crown Devon, Wade, Goldscheider, Royal Dux, Royal Worcester, Royal Doulton, Doulton, Meissen, Minton, Midwinter, Myott and many other DecoWare favourites.
11/05/2005
Rare Myott Cat handle Jug
Reported by:
Martin

Thanks to Ebay's buyonlineuk for letting us use these pictures of a very rare Myott Cat Handle Jug that is currently for auction. Bids end 14-May-05 09:57:43 BST and the Ebay listing number is 7320489983. Only a handful of these pieces have surfaced over the years – probably only 5 or so are known. We have replaced the images in the catalogue as the example we had was restored to the spout which had been slightly truncated. This is the description of the item "This is a stunning and rare jug. As far as I am aware this jug has only come up a few times over many years. It is 8 inches high and 9 inches from spout to handle.There are no chips or cracks. There is some age crazing and some minor wear. Both ears have been restored, but do not detract from this super piece. A must for any serious Myott collector." This could be your last chance for many years to pick up one of these.
11/05/2005
Three Nice Myotts
Reported by:
Martin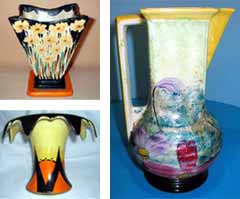 Another three interesting pieces are currently also on Ebay – an uncommon Square vase, rare Overflow Vase and a nice Square Neck Jug with an uncommon pattern.

Square Vase (top left) – Another one from Ebay's Utopiastreet, a super Square Vase with pattern number 9170. Item Ends 14-May-05 09:06:04 BST, item number 7321608044. This is the item description "Good Art Deco Hand Painted Stepped vase. Good condition with no damage or restoration. Odd minor paint flake on the black. Small rub mark on one orange corner. Very very minor odd craze lines. No insert. Good colours. Back stamp in photo. Stands approx 7 1/4" tall."

Overflow Vase (bottom left) – This one is up for auction from Ebay's tvc15b, and displays a good pattern on a rare shape. Pattern number 9648. Auction ends 16-May-05 19:26:19 BST, item number 7321022676 .This is the item description "A Myott Downturn Vase,Hand Painted in orange, yellow and black, 1930's, 17cm high and in perfect condition. Very eye-catching and typical of the Art-Deco Era.Because of the downturn design of this vase, very few still exist that are undamaged but I guarantee that this vase has no damage or restoration whatsoever."

Square vase (right) – This pattern doesn't turn up that often. Pattern H.W 94. On offer by Ebay's karashona, iten number 7321725549. Auction ends 16-May-05 20:29:10 BST. This is the item description "ONE 8 AND 1/2 INCH HIGH, 4 AND 3/4 INCH WIDE FROM SPOUT TO HANDLE MYOTT SON & CO, JUG. THIS IS IN GOOD CONDITION APART FROM SOME RUBBING ON THE BLACK PAINT AT THE BOTTOM OF VASE. THERE ARE NO CHIPS CRACKS OR CRAZING. BOTTOM READS REG NO 78931 HAND PAINTED H.W. 94. NO RESERVE."
25/02/2005
Small collection for auction
Reported by:
Martin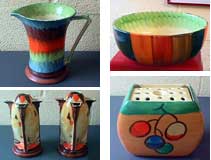 A number of Myott pieces are up for auction on Ebay by alco1947 most interestingly a pair of rare Torpedo vases. Also a rare pattern Doric or Lemonade Jug with the uncommon use of blue paintwork and a super Brick Vase. The seller is clearing out what's left of his own collection of Myott.

Top left is the rare pattern Doric Jug with the auction ending 03-Mar-05 15:17:47 GMT

Top right is a nice hand-painted fruit bowl pattern number B8293. Auction ends 24-Feb-05 15:17:47 GMT

Bottom left is the great pair of Torpedo Vases. They need a little restoration but this would be money and time well spent. Auction ends 06-Mar-05 14:24:07 GMT

Bottom right is an uncommon Brick Vase is a nice stylised Art Deco pattern. Pattern number P No9741. Has an internal crack but is never-the-less a nice item.

25/02/2005
Basket Case
Reported by:
Martin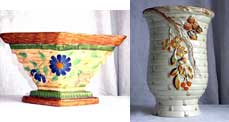 Thanks to Ebay's hallyburton for letting us use these two pictures which are new to the Club catalogue. The diamond vase has a rare pattern and the basket weave bell vase is a new shape to the catalogue. It's interesting that the basket weave range of wares copy standard shapes seen in the normal hand-painted (non-embossed) jugs and vases produced by Myott in the 1930's. It's rumoured that the basket weave wares were shapes taken over from another company. Which means that Myott copied the shapes for their Art Deco output. I find this difficult to believe as Myott was a leading force in Deco design of the period. Here are the descriptions from hallyburton.

LEFT: A Myott Art Deco Flower Vase and Liner decorated with hand Painted flowers of blue, orange, and green on shades of brown with green banding on stepped base. The Vase measures 10.5" (26cm) wide 5.5" (14cm) high. Circa 1930s. Gold crown above Myott Son & Co with England below, backstamp and No. 1144 in excellent condition. Auction ends 03-Mar-05 11:02:21 GMT.

RIGHT: A Myott & Sons Hand Painted Vase decorated as Moulded trellis with Branches and Flowers in orange and browns on cream ground, nicely constructed and shaped Vase, it measures 8.25" (21cm) high. Circa 1930s with impresed mark r L/S 114, gold crown above Myott & Sons & Co. made in England H.W.517 in glod backstamp, in excellent condition. Auction ends 03-Mar-05 11:16:06 GMT.
23/02/2005
IMPORTANT INFORMATION ABOUT THE ART DECO FAIR IN MAY
Reported by:
Martin
Due to unforeseen circumstances the Take Five Fairs Art Deco and Nouveau fair scheduled for Bank Holiday Monday May 30th 2005 at Woking Leisure Centre has been moved to Bank Holiday Monday 2nd May 2005. We hope this has not inconvenienced you in any way.
23/02/2005
TWO SPECIALIST 'TAKE FIVE FAIRS' IN MARCH
Reported by:
Martin
During March 'Take Five Fairs' will be staging two specialist events in addition to the regular second Sunday Antiques and Collectables Fair, held at the Woking Leisure Centre, Surrey.
These specialist fairs are made up of standing dealers, many of whom travel long distances to exhibit their stock, one such person being the gentleman who travels from France to show furniture at the Deco Fair.
The Glass Fair, to be held on Sunday 20th March, will have many fine examples of British, European and Scandinavian glass, covering several centuries. There are also likely to be examples from further a field, such as America. All the popular period manufacturers will be represented and no doubt some more contemporary artists too.
The Art Nouveau and Art Deco Fair, which also incorporates the earlier Art and Crafts period and the later post war design up to the mid seventies, will be staged on Easter Monday, the 28th March. This popular and colourful gathering offers such a wide variety of decorative items, including furniture, pictures, mirrors, clocks, lighting and rugs. Apart from a wide selection of ceramics, glass and metalwork, there will be early plastics and vintage garments and accessories, including jewellery.
Both Fairs will have specialist booksellers covering many of the subjects associated with the theme of the fair.
One of the advantages of specialist fairs is the marvellous range of decorative and practical items available under one roof; this also means that the stallholders need to be competitively priced! So, if either of these events interests you, then don't miss making a note to attend!
The Woking Leisure Centre, offers a large non smoking and air conditioned hall for our functions and is easy to reach and will be signposted from the A3 and M25. There are plenty of parking spaces and refreshments and light meals are available in the spacious restaurant.
Because of problems encountered in finding suitable dates for the Autumn Glass Fair, we have decided to showcase it, on the same day as the Art Nouveau and Deco Fair. This will be alongside, but in a separate hall within the Woking Leisure Centre. This means that dealers and collectors alike now have the advantage of a Double Specialist Fair on the August Bank Holiday Monday, 29th of August.
For further details please contact John Slade on 020 8894 0218 or view website www.antiquefairs.co.uk
10/02/2005
Take Five Fairs Important Notice
Reported by:
Martin
John Slade, promoter of Take Five Fairs, has asked us to inform Club members that there will unfortunately be no more fairs at Canons Leisure Centre in Mitcham due to unforeseen circumstances. The Woking fairs including the Art Deco fairs will continue at Woking Leisure Centre.
10/02/2005
Ebay Myotts
Reported by:
Martin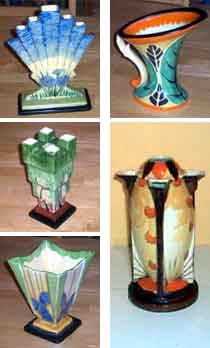 Some beauties here up for auction from Nick Ainge on Ebay. Go to www.ebay.co.uk and use the advanced search to find items by seller. Nick's Ebay name is decoseek.
Here are Nick's descriptions of the super Myotts pictured on the left.

FAN VASE (Top left)
A stunning Fan vase from a private collection of many years. Condition is exceptional. No cracks, chips or repairs. Paintwork is very sharp and bright. Usual crazing as normal. Stands 8.5 inches tall, has full gold stamp. Wonderful item, Myott at its best. Condition guaranteed, good luck.
10-day listing
Ends 20-Feb-05 19:00:00 GMT

SCROLL JUG (Top right)
Very special item. Rare and desirable. Scroll shaped jug with a fabulous colourway and pattern. These jugs are one of Myotts best and quite outrageous. The condition of this one is superb with no cracks, chips or repairs. Some crazing as expected. Paintwork is stunning. This jug came from a long time collection and I have not seen one this size. Its the small version at just under 8 inches. Full gold stamp plus BAG which could mean it was for export. BAG stands for British American Glass and was intended to give some exposure abroad through this company. Hence the superior quality and care to the pattern and finish. A real stunner and very special, good luck.
3-day listing
Ends 12-Feb-05 21:20:34 GMT

CASTLE VASE (Middle left)
Castle vase in an unusual pattern. Not often seen this one as opposed to the usual pink and blue one. This example is in exceptional condition with no cracks, chips, repairs or crazing even.Paintwork is superb with just one small flake on brown base. It stands 8.5 inches tall and has the gold stamp on base. A stunning piece of true art deco Myott at its best, good luck.
3-day listing
Ends 12-Feb-05 20:41:13 GMT

SQUARE VASE (Bottom left)
A Square vase in a very attractive and rare pattern. Blue on myott is desirable and the segments of sliced fruit in this pattern are stylised blue and outlined in grey with yellow centres. This is a great geometric pattern to rival Clarice Cliffs efforts and is free hand painted by a skilled artist. The vase stands 7 inches tall and carries the full gold stamp. It is in excellent condition with no cracks, chips or repairs. Has crazing but does not detract and is quite normal for these. The insert does accompany this vase also and is in good condition.Paintwork superb just minor fading on black base only for accuracy. A special item in a very desirable pattern, good luck.
3-day listing
Ends 12-Feb-05 21:00:49 GMT

TORPEDO VASE (Bottom right)
Torpedo vases are rare and very desirable. This one has been in a private collection for years and is in excellent condition. No cracks, chips or repairs. Paintwork very good indeed, usual minor crazing as normal. Full gold stamp, approx 9 inches tall. Superb piece, condition guaranteed, good luck.
10-day listing
Ends 20-Feb-05 19:00:00 GMT
23/01/2005
Lemonade Set
Reported by:
Martin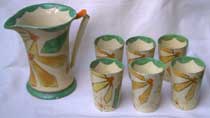 Many thanks to Ebay's decarts-north for the use of the pictures of this fabulous Myott lemonade set comprising jug and full set of six beakers.
Decarts-north description of the set; ' Superb Art Deco Myott lemonade set, one jug and six beakers, all hand painted. Jug measures approx. 7.25" high, each beaker measures 4" high and just under 3" in diameter. All in good condition with no chips, cracks or restoration, some slight crazing and usual slight loss to green paint on the jug (almost nothing). Makers marks printed to base.' The pattern number is 8708.
Only one day left on this auction so you will need to be quick if you want to add this delightful set to your collection. Ends 25-Jan-05 19:39:05 GMT
04/01/2005
Myott Retro article
Reported by:
Martin

A new article entitled 'Myott retro' has been included in the right hand margin on the Club website.

04/12/2004
Battersea Art Deco Fair 28/11/04
Reported by:
Nick Ainge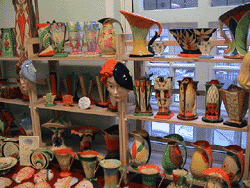 Despite recent trends indicating a slow down in Myott popularity and values, Battersea Art Deco fair really put the cat amongst the pigeons.

Having recently sourced three collections of Myott , Battersea was the first airing for them. Many were sold on the day to 4 avid collectors. The fair has recently changed hands and is now run by Abbey Fairs. The fair is in a wonderful venue at Battersea Arts Centre - the old Town Hall - and is becoming increasingly popular. There was even a jazz band playing period music! I sold a wide variety of items across the deco spectrum but Myott was the star performer. Items sold included:

Blue with yellow flowers Trumpet Jug
Top Hat in rare sunrise pattern
Pink, blue, mauve Torpedo
Green and orange Torpedo, very rare, first seen.
Green, coffee coloured and black Torpedo, very rare first seen
Step Jug in yellow and black.
Doric Jug in very rare geometric stripes.
Dante in blue poppies
Jester in fabulous black, orange and green pattern

Most of these items have already been included in the new Club catalogue.

Items found on the day by myself:
One Top Hat in unusual banded pattern, there were a few other items also a jester jug and a Doric jug, couple of pinch tops.

So I was pleased to confirm a strong interest in Myott, which all of us already knew to be honest. We just have to be patient and wait for items to surface and they do not hang around. I do still have some special items left which will be on display at Warwick Sunday 5th Dec.

26/11/2004
Appealing Bell
Reported by:
Martin Wilkie

Ebay's utopiastreet has a number of Myott items up for auction at the moment. Most notable is the super Bell vase in the highly collectable B.G.70 pattern (Yellow Flowers). This vase stands 7 inches and is in excellent condition. You can see by the pictures that this pattern differs front and back which is not common for Myott. Along with the Bell Vase utopiastreet has a nice Bow Tie Jug, a Chicken Neck and a Fat Lady Jug (Classic Jug).
26/11/2004
SIZE MATTERS
Reported by:
Martin Wilkie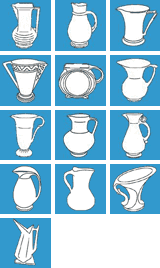 We are launching the new style Myott Collectors Club soon and we have redesigned the catalogue so that is easier to add new items and search. You are probably aware that the shapes of jugs on the left wre manufactured in various sizes. If you have details of these dimensions email them to martin@myottcollectorsclub.com Try to be as accurate as possible as we need to look at all the data collected to produce an average for each size as they tend to vary slightly by the nature of the production methods. We did this for Chicken Neck jugs and found the sizes not to be whole numbers of inches. Nick Ainge has supplied some dimensions already, but all listed sizes below require comfirmation. A measuring tip is to rest something straight across the top of the jug and measure up from the surface the jug is standing on.
TOP ROW:
Square Neck Jug - SMALL: 7 1/2 inches. MEDIUM: 8 inches. LARGE: 8 1/2 inches.
Ragtop Jug - SMALL: ???????? inches. MEDIUM: ???????? inches. LARGE: ???????? inches.
Lemonade Jug (Doric) - SMALL: 6 1/2 inches. MEDIUM: 8 inches. LARGE: 8 1/2 inches.
2 nd ROW:
Conical Jug - SMALL: ???????? inches. MEDIUM: ???????? inches. LARGE: ???????? inches.
Round Jug - SMALL: 6 inches. MEDIUM: ???????? inches. LARGE: ???????? inches. May only be 2 sizes.
Small Jug - SMALL: ???????? inches. MEDIUM: ???????? inches. LARGE: ???????? inches.
(Has anyone got an alternative name for the small jug?)
3rd ROW
Trumpet Jug - SMALL: 7 inches. MEDIUM: 7 1/2 inches. LARGE: 8 1/2 inches.
Classic Jug (Fat Lady) - SMALL: 6 inches. LARGE: 8 1/2 inches.
Jester Jug - SMALL: ???????? inches. MEDIUM: ???????? inches. LARGE: ???????? inches.
4th ROW:
Chicken Neck Jug (Dante) - SMALL: 7 3/4 inches. MEDIUM: 8 1/4 inches. LARGE: 8 7/8 inches.
Pinch Neck Jug - SMALL: 7 inches. MEDIUM: 8 inches. LARGE: 8 1/2 inches. EXTRA LARGE (advertising ware): 11 inches.
Scroll Handle Jug - SMALL: 9 inches. LARGE: ???????? inches.
BOTTOM ROW
Beaky - SMALL: 9 inches. LARGE: 9 1/2 inches.
24/11/2004
Take your pick Nick!
Reported by:
Martin Wilkie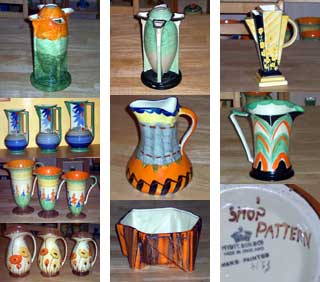 Some super new stock from Nick Ainge (and there's more to come!) Thanks to Nick for sending in these pictures especially the 2 new pattern Torpedo Vases. Nick is standing at Battersea Art Deco Fair, Sunday 28th, Battersea Arts Centre.
COLUMN 1
Rare pattern Torpedo Vase. A nice orange, light green and dark green vignette. This piece appears, along with a few others from the same collection, in the 1997 deco ceramics book. I haven't seen this pattern before 'in the flesh' and it has already been included in the new version of the Club catalogue which will be launched in a week or so. We are running about a month behind schedule due to a number of unforeseen set backs but are well on course now.
Nice set of Square Jugs in the Blue Flower pattern in three size variants.
Full set of Trumpet Jugs in three size variants.
Full set of Dante (Chicken Neck) Jugs in three size variants.
COLUMN 2
Rare pattern Torpedo Vase. Also unseen by the Club.
Unusual pattern Pinch Jug. Nick only deals in special pieces of this shape.
Drip Planter (orange and brown). Bretby also produced this shape along with a wedge vase and Nick wonder s who initiated the design production.
COLUMN 3
Super Step Vase. Nice arrangement of flowers to this one.
Jazzy Doric (Lemonade) Jug
SHOP PATTERN - Nick's words "Picked a pair of rare Square Neck Jugs up and one had this on base. Both same pattern and both carrying factory flaws. Look like paintshop experiments maybe ?. I will send shot of jug later."
08/11/2004
Three Rarities
Reported by:
Martin Wilkie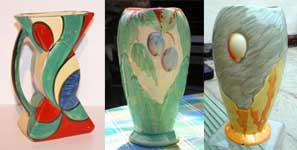 Three Myott gems on offer currently on Ebay by 'swissbrit' and Chris Bainbridge. The firsy one can only be described as the best bow tie jug ever (left picture). Swissbrit's description sums it up perfectly... "Probably the best Myott Deco design Bow tie jug. Handpainted with Swirl effect and some Rare Blue on it. This is a duplicate from my private collection. Very Rare only ever seen 2 examples (I have the other one). Height 7.5 inches. Condition excellent. no chips cracks or repairs. The only small point to mention is the black paint on the handle is a bit smudged in one place and im not sure if someone has tried to touch it up a bit...but it doesnt detract from the piece at all. If you collect Myott as i do then once you have been at it a while these are the sort of pieces to get and keep. Real Deco shape and real Deco design and colours. The reserve is set at a realistic level for such a piece. Good luck."

The other Myott rarity is an Asymetric Vase in the 'Plumb' Pattern (middle picture). These vases don't turn up very often - I've only seen about 5 on Ebay in 4 years! Coincidentally Chris Bainbridge - Art Deco ceramics dealer - has one displaying a yellow with orange drip pattern. Here's Swissbrit's description... "Myott deco vase in very good condition with no damage, chips or cracks. In original condition with just a few paint flakes on the brown at the top. Approx 8inches high. A good addition to a Myott collection with what is a rare shape. Good luck with bidding". Use Ebay's 'advanced search' feature for a search on swissbit to view the bow tie jug and 'plumb' asymetric vase.

The third item (pictured right) is being auctioned by Ebay's chris-bainbridge. As mentioned above it's another rare Asymetric vase displaying a yellow with orange drip lower panel with grey upper. I've never seen this pattern before but have seen a green colourway. Here's Chris's description... "A very rare 8" Myott vase in hand-painted original condition. It came from a private collection offered without reserve". You can also view the item on www.chrisbainbridge.com
08/11/2004
Catch That Owl!
Reported by:
Martin Wilkie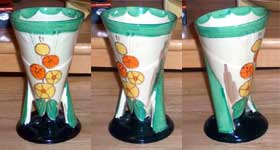 A super-rare Owl/Cone/Rocket/Stutnik vase is on Ebay at the moment auctioned by Nick Ainge - Myott specialist. Nick's Ebay user-name is 'decoseek' should you want to get your bid in on this wonderful item. There's anoither Owl further down the news page which demonstrates why the name was applied to this shape. In Nick own inimitable words... "A Cone Vase. One of the rarest shapes Myott produced. It is up there with Beaky jugs and Wedge Vases for rarity and desirability. This is a very special item. The pattern is top too. Holly Hocks on any item is desirable but on a Cone, its in a league of its own, a Museum piece for sure. The condition is excellent with no chips or cracks, no repairs. It has the usual crazing and some minor paintloss as normal mainly on black base. Not disturbing and confirms the honesty of the item. It has come from a long time collection so new to the scene. This is a real find, quite breathtaking. Stands approx 7 inches tall and has full stamps. Bid with confidence, one of the best Myott items ever to appear on ebay, good luck."
21/10/2004
Rare Fan Vase
Reported by:
Martin Wilkie

Thanks to Ebay's elsw for letting us use some images of this very interesting fan vase. Personally I have never seen this colourway before. There is no pattern number so I was wondering if it could be a trial piece. If you have seen this pattern before or you own an example of this piece please contact the Club - especially if it displays a pattern number. Some larger pictures would be helpful also.
01/10/2004
Owl Vase Update
Reported by:
Martin Wilkie

The rare Myott Owl Vase featured in the article below is currently for sale on Rick Hubbard's newly launched website.
01/09/2004
Owl's Zat!
Reported by:
Martin Wilkie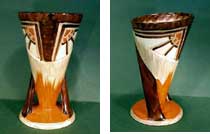 Another Myott rarity has surfaced on Ebay from South Australia. There has been a lot of input and interest from both Australia and New Zealand recently - it seems Art Deco is enjoying renewed interest in the antipodes.
You may have seen the super step jug (pyramid jug/fan jug) on Ebay recently with the Hollyhocks pattern. I couldn't unfortunately gain rights to use the images of that one but have kindly been given permission from Ebay's pedlars.antique.market to use these pictures of a great example of an Owl (or Rocket) Vase. This pattern implies the name quite nicely with a clear example of owl-like eyes being shown. It has the usual gold Myott mark along with pattern number H9354 and the piece stands just over 7 inches tall. Bidding ends Ends 02-Sep-04 02:03:51 BST.
23/08/2004
A couple of Myott gems
Reported by:
Martin Wilkie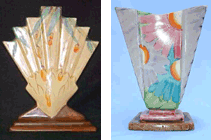 A couple of nice examples of Art Deco Myott here recently sold on Ebay. The fan vase on the left was auctioned by Mike Harewood (Decodancer) and has a particularly bright glaze to it. The other, a square vase, on the right was sold by Ebay's Orville4 and is a particularly rare example and use of pastel colours including pinks and mauves. It's worth searching these Ebay user names from time to time as they both tend to turn up these little Myott gems.
13/07/2004
FAB BOW TIE JUG
Reported by:
Steve Dunlop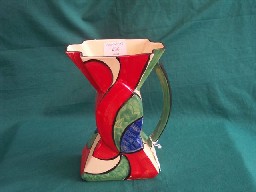 I thought members might be interested to see my Bow tie Jug recently acquired for my collection and admire its great colours and pattern including some rare blue.
Please excuse the auction sticker.
12/07/2004
Three Rare Myott's
Reported by:
Martin Wilkie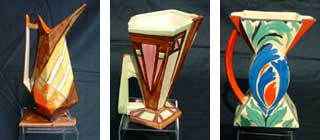 A great trio of rare Myott from eBay's newlyn_rhythms. the Beaky Jug (left) is on eBay at the moment and is the 9 inch tall version. The super Pentagonal Jug (middle) and the Bow Tie Jug on the right will be listed soon. This is the seller's description for the Beaky: On offer is a very rare, brightly coloured, Myott Beaky jug; a terrific centrepiece to your collection.
The jug stands 9 inches (23 cm) high. The backmarks are an impressed '24' and 'Made in England'.
The paintwork is bright and sound except for the usual small paint flakes. There is a stress crack about 11/4" in the region marked on one of the photographs that is visable inside, but barely shows from the outside, and in no way detracts from the attractiveness of the jug.
11/07/2004
Nick Ainge's Wedge Vase
Reported by:
Martin Wilkie
The rare wedge vase articled below has now been sold. Nick Ainge auctioned the piece on Ebay and it had a lot of interest shown from dealers and collectors alike.
25/06/2004
Woking Art Deco Fair 30/05/04
Reported by:
Martin Wilkie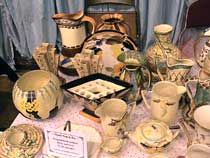 A good turn out and lots of Myott at Woking today. Thanks to John Slade for letting me have a stand in return for collecting registrations for his Take Five Fairs website www.antiquefairs.co.uk
Flyers were handed out advertising The Club, John's site and www.decoware.co.uk our other decorative arts website. I had all the pieces on show from my website and sold 4 items – the rare black diamond vase with yellow flowers (pictured in the Alexandra Palace article below); a nice trumpet jug and a cake stand with matching plate.
Chris Bainbridge, Kim Hughes and Mike Harewood all had good examples of Myott for sale also. There were 3 fan vases and 6 pyramid vases in total, bow tie jugs and vases and countless other pieces to suit all tastes and pockets. Pictures of my stall are on the left.
25/06/2004
Myott Art Deco Rose Bowl
Reported by:
Martin Wilkie

Thanks to Ebay's mackems for allowing the Club to use these images of an interesting new shape to the catalogue – an Art Deco hand-painted rose bowl composed of bowl, ceramic insert and stand. The bowl measures 3 1/4 inches in height and 4 3/4 inches in height when on the stand. The diameter of the bowl is 8 inches. The bowl and the stand both have the gold Myott backstamp and the pattern number 8678.
25/06/2004
Double sided Classic
Reported by:
Martin Wilkie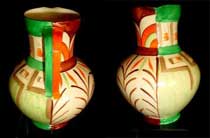 Thanks to Ebay's alldecokid for the use of these interesting images depicting a Fat Lady or Classic jug with a different pattern each side.

Alldecokid's description.
TOTALLY UNIQUE …..NEVER TO BE REPEATED ….. ONE OF A KIND…..& FOR THE SERIOUS COLLECTOR
AN ORIGINAL ART DECO HAND PAINTED 1930's…….MYOTT….. CLASSIC JUG WITH …TWO DESIGNS…ONE ON EACH SIDE…..THIS IS A TRIAL PIECE…..THE ….FIRST….. CLASSIC JUG OF IT'S TYPE TO HAVE THESE DESIGNS PAINTED ON …..BEFORE ANY WENT INTO PRODUCTION….HOW UNIQUE CAN YOU GET !!!!…..IT'S CONDITION IS SUPERB…..NO DAMAGE OR REPAIRS …GUARANTEED !!!!…..THE PAINT WORK IS STRONG & VIBRANT WITH NO FLAKES …LOSS…OR FADING….MEASURING …..8 ins HIGH ….
TO FIND SUCH A RARE JUG IN THIS CONDITION IS EVERY COLLECTORS DREAM !!!!

Alldecokid's email to the Club.
I was just about to email you and ask if you had ever seen a jug like this one.... But you beat me to it !!!..You've already had a bid on it !!!. Have you ever come across one painted like this before ??
To be honest I had a quick word with Nick at Newark because I really had no idea as to it's value..But he had no real idea either....I bought it at Swinderby off another dealer for a reasonable amount.....Chris Bainbridge has had a good look & thought it was good, but would have been nicer in a real deco shape !! I'll have to find one in a beaky !!!.
If you want to mention it on the Myott collectors web site, you're quite welcome to take the photo's off Ebay...I'll be grateful for the publicity !!!

Club's reply
Not come across this phenomenon before – what an oddity. I have a theory as to its function though. I don't think it was a trial as the whole piece would be decorated in a single design to get the full effect. I think it may be an exhibition piece used to show prospective retail outlets examples of patterns. So by having 2 designs on one piece would reduce the total number of pieces by half. And with the proliferation of patterns that Myott outputted this would be a necessity. I'm actually convincing myself now! I'd like to see a fan or finger vase applied in the same way.

Club member valenciablue had this to say on the salesman theory.
"Yes I have seen the Myott classic jug on eBay and no I haven't seen its two sided design before, I would agree with you on the salesman theory-it does
make sense!"

If you know any better please contact the Club with an explanation or perhaps an alternative theory.
19/06/2004
St Albans Art Deco Fair report BY NICK AINGE.
Reported by:
Martin Wilkie

First time fair located at St.Albans Civic Centre. Over 2 days Saturday and Sunday,
19th and 20th. Very encouraging turnout and nice venue with easy parking.
Good catering. Myott available on 3 stands, including my own.Picked up nice
pink pastel square neck jug. 5 Myott items sold that I know of, a conical
jug and Twist handle from me, chicken and classic from another, plus the
square neck I bought which is pictured on the left.
13/06/2004
Battersea Art Deco Fair
Reported by:
Martin Wilkie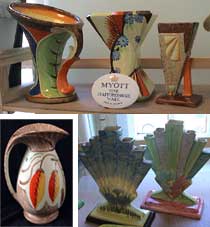 Nick Ainge's stand was bursting at the seams with quality Myott and Mike Harewood had a few interesting pieces also including a late chicken neck jug (in the whiter ceramic) displaying an odd design which is based on an earlier Gloria Gladwyn pattern. This is shown in the picture bottom left. (Gloria Gladwyn worked for Myott's as a designer in the vogue of Clarice Cliff and Susie Cooper).
Nick bought a nice preserve pot and also sold a scroll handle jug. The other pictures in the accompanying image are of Nick's stand showing the scroll handle jug, a rare pattern bow tie vase and Nick's rare wedge vase, together with a Myott advertising plaque. Bottom right are 2 nice fan vases including the highly sought after pastel flowers pattern.
13/06/2004
Battersea Art Deco Fair More Patterns
Reported by:
Martin Wilkie

Some other new patterns to the Club catalogue displayed on Nick Ainge's stand from left to right.
• Trumpet Jug with stylised blue flower on web. Pattern number P9674. Gold Myott crown with B.A.G. Co. Ltd. mark. REGD. No. 779152.
• Trumpet Jug. Pattern number P9737. Gold Myott crown with B.A.G. Co. Ltd. mark. REGD. No. 779152.
• Top hat vase with pencil trees. Pattern number P9742. Gold Myott crown with B.A.G. Co. Ltd. mark.
06/06/2004
Warwick Art Deco Fair - Report from Nick Ainge
Reported by:
Martin Wilkie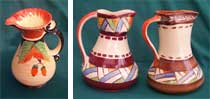 Warwick Art Deco fair, Sunday 30th at the Warwwick Hilton. The fair turned up a blue diamond planter and a nice Jester Jug. Nick has sent in an interesting comparison of Pinch Jugs for the Club - Wadeheath v. Myott. Who was first , who's is best. To my mind Wadeheath never mastered the design balance that Myott seemed to attain so naturally. It would be interesting to see what our members think. Enter a response in the discussion.
Nick Ainge will be stalled out at Newark with an extensive display, Monday and Tuesday the 7th and 8th June.
06/06/2004
Picking up Pastels
Reported by:
Martin Wilkie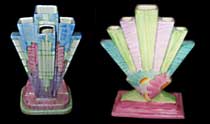 Two super recent sales from Ebay. Both in complimentary pastel colours of blue, pink, mauve and green. Both pieces are very sort after and commanded good prices at end of auction.
Pyramid Vase (left)
I have included the response from the seller as it makes an interesting read and gives a story to the piece. This was the reply from my request to use the pictures. "Hi, Thank you for your email. I am very interested in your site which I have had a look at. I had no idea Myott produced such beautiful pieces and can well understand why they are so collectable. I guess from your enquiry , and from the way my vase is shooting up in price that it is a rare piece.. I was given the vase 30 odd years ago by an elderly lady, after which it was used regularly. Then I moved house a few times, and it has spent the last 18 years in a friend's loft.. The reason I put it for sale is that I have lost several friends at age 60 and having reached 60+ myself I thought I better start sorting things as my daughter is likely to throw everything in a skip.... I have some beautiful pieces (my dad was a bit of a dealer) and I cant take them with me.. As much as you love things you have to be realistic, and after all anyone who pays huge amounts of money for things are going to take great care of them,..." The vase displays pattern number 8940 which agrees with the same pattern on the Castle Vase and has the usual gold Myott crown. It sold in superb condition. Has anyone a square vase with this pattern that they can send in some pictures (including the marks)?
Fan Vase (right)
Same thing – the response from the seller "Thanks for your message. I am really surprised by the amount of interest this piece has generated, it has been collecting dust in a box for some years. I used to collect and deal in Art Deco ceramics and this is a piece that I kept for myself, thinking that one day it would come into its own.
Judging by the prices I am glad that I did!!. I am more than happy for you
to use the photo." The pattern number of this piece is 8948 which coincidently isn't that far off the pyramid vase's pattern number. There was some minimal crazing on this example but no chips, cracks nor restoration.
19/05/2004
Very Rare Pillar Vase
Reported by:
Martin Wilkie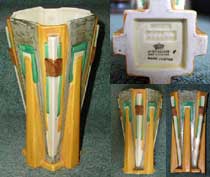 Thanks to Ebay's Addittothebasket for allowing the Club to use these pictures of an extremely rare Pillar Vase displaying the early impressed Myott England mark along with the more common Myott gold crown. A very striking Art Deco geometric shape standing 21.5cm (8.5 inches) tall and in outstanding condition. The piece reached a high price with a number of notable Myott collectors and dealers showing interest.
19/05/2004
Sweet Seventeen Fan Vase
Reported by:
Martin Wilkie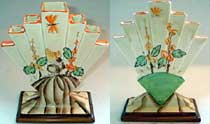 Another rarity has turned up on Ebay recently, this time auctioned by Poolepotteryjohn. A super Sweet Seventeen fan vase displaying the crinoline lady in brown colourway. Described as in great condition with 'strong as new' colours. Other shapes in this pattern were also produced with green and pink gowns, most notably the highly collectable square neck jugs. It would be interesting to know if the fan vase was also produced in pink or green.
18/05/2004
B.G. 70 Ball Vase
Reported by:
Martin Wilkie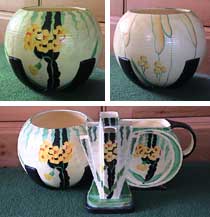 Having just acquired this super example of a Myott ball vase with the British American Glass pattern number B.G. 70, I thought it would be nice to feature 2 other pieces with this pattern. The ball vase is for sale and is sometimes refered to as a witch vase or cauldron vase. This example measures 16.1cm (just under 6.5 inches) tall and 20cm (8 inches) wide and displays a super Art Deco pattern. The other two pieces have been featured in the news before and are a Moderne (pyramid or finger) vase and a round jug in the smaller size. All have the same pattern number and display the gold Myott crown. If you are interested in the ball vase you can contact me on martin@myottcollectorsclub.com
16/05/2004
Myott Article in Collect It! Magazine
Reported by:
Martin Wilkie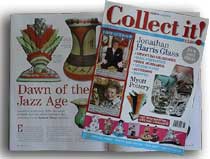 Issue 83 (June 2004) of Collect It! magazine sees an article about Myott written by Art Deco author Andrew Casey, with input from myself and also Philip Pollitt and Anne Myott, writers of the Mystery of Myott book. The article and accompanying pictures are centred on the Art Deco production of the early 1930's with lots of useful information.
Oddly enough the preceding article is on cube teapots which Myott produced for the Cunard Shipping Line for functional use on the Queen Mary. There is no mention of Myott however in this piece so I will attempt a small follow-up article to set the books straight. I mentioned Myott's lack of profile in the public eye in the article so this seems to back up my thoughts on the subject.
Hopefully the article will produce a few more Myott collectors and boost the Club membership. I expect the Beakies, Wedges and Cat jugs will start flooding in now!!!!! Well one would be nice anyway.
16/05/2004
Liverpool Art Deco fair report from Nick Ainge
Reported by:
Martin Wilkie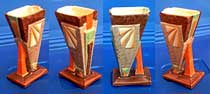 Nick Ainge's new acquisition was on show at the fair – an extremely rare Wedge vase. Many visitors were not familiar with the shape from Myott although Bretby copied it and a Bretby example was at the fair. Nick's newly acquired collection was also on display comprising Torpedo (sold on the day), Spill vase orange tulips pattern, Dante jug with coloured leaves pattern, very rare mini fan vase with never seen before pattern. Other items not on display were Scroll Handle Jug (large size) green and blue and a rare top hat vase with tall trees sunrise pattern. As well as the Torpedo Nick sold a round jug with nice daisy pattern.
Nick bought a nice crocus Doric jug on the day, very good condition and unusual. No other Myott present.
09/05/2004
Alexandra Palace Antiques Fair
Reported by:
Martin Wilkie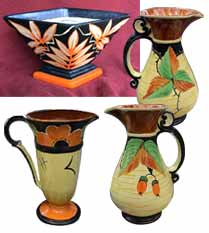 Not lots of Myott at May's Ali Pally Fair but the few pieces there displayed quality and rare pattern. The highlight must be the diamond planter pictured on the left with bold leaf sprigs in orange which 'zing out' of a thickly painted intense black background. Not many of these around – I've only seen one for sale in The States, but this seemed to have a blue background (which now I would put down to camera flare). Chris Bainbridge, Art Deco ceramics dealer, has seen this pattern before (but in Chris's own words "Then I've seen them all in my time!). The piece did the rounds but was finally sold by Mike Harewood as part of a swap with a rare chevron pattern square vase. I believe Chris sold a square vase with insert in the 'fish scales' pattern and an 'autumn leaves' pattern fan vase. This is the one pictured and articled below in'Alexandra Palace Fair 14/03/04'. Chris had a number of other Myotts on his stand as did Mike Harewood. Chris also bought a fan vase with 'orange berries' pattern. Ypu may recall a pair of these for auction on Ebay a few months ago. I will endeavour to get pictures from Chris at some stage.
I found a rare patterns in a Jester jug with 'acorn' pattern and a large size Trumpet jug. The Jester had no Myott mark but showed the B.A.G. pattern number B.G.71. The Trumpet jug was also B.A.G. Co. Ltd. and had pattern number P9642. Both of these interesting pieces are pictured on the left.
27/04/2004
Bristol Antiques fair Report from Nick Ainge
Reported by:
Martin Wilkie

Nick Ainge picked up this superb example of a Myott scroll handle jug at Bristol Antiques fair at the weekend. Not many of this shape crop up these days and this one displays a particulary bright pattern with orange, green and yellow banding with the use of black as a contrast to the lower handle. A similar example appeared on Ebay about a year ago and attracted a lot of interest.
Along with Nick's usual vast Myott display Chris Bainbridge had various Myott pieces on show inluding 2 Jester jugs, a Bowtie vase and Dante Jug.
Some copies of the Myott book sold from Bookstall showing Myott is still slowly attracting new interest.
23/04/2004
Rare Gloria Gladwyn tea set
Reported by:
Martin Wilkie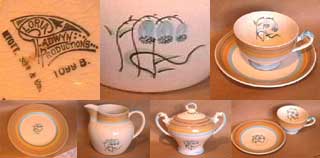 Thanks to Pablo Benoît (Ebay's zzdeco) from Buenos Aires, Argentina for letting the Club use these super pictures of a rare Gloria Gladwyn Productions part tea set. There is very limited information about Gloria Gladwyn or indeed if she was an actual person. Probably a response to the success of designers Clarice Cliff and Susie Cooper. This part tea set comprises 5x8 inch plates, 5xcups & saucers, 2x10 inch plates, milk jug and sugar bowl.
The pattern number is 1099 B.
23/04/2004
Export Tea Service
Reported by:
Martin Wilkie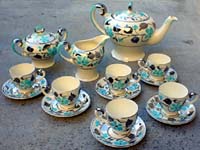 Thanks to Ebay's Muffin35 for letting the Club use this picture (and others from the listing) of this interesting export pattern, hand-painted with silver lustre 15 piece tea service. On sale from Hollywood California.
The service consists of:
(1) Teapot
(10-1/4" spout to handle, 6" wide, 6-3/4" tall)
(1) Sugar Bowl
(6-1/2" handle to handle, 4-3/8" wide, 4-3/4" tall)
(1) Cream Pitcher
(5-3/8" spout to handle, 3-1/2" wide, 4-1/4" tall)
(6) Demitasse Cups & Saucers
(Saucers 4-1/4" diameter
22/04/2004
Nick Ainge Chester Report
Reported by:
Martin Wilkie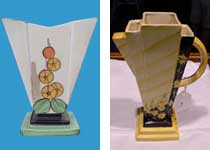 Sunday April 18th Chester Racecourse.
Myott specialist Nick Ainge had reasonable success at Chester highlighted by the sale of a rare Hollyhocks pattern square vase (see picture on far left). Nick has recently purchased this super Step Jug (see picture on right). Mike Harland was represented and had various Myott items for sale, Nick had his Beaky on display (see article below) Anne Myott and Philip Pollitt authors of The Mystery of Myott were there as usual and commented on Nick's stand. Nick will be at Bristol this Sunday 25th for the Art deco fair at Temple Meads.
16/04/2004
Beaky Jug
Reported by:
Martin Wilkie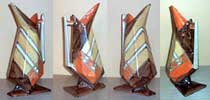 Myott specialist dealer Nick Ainge has unearthed another rare Beaky or Penguin Jug. The jug is in excellent condition and according to Nick is a very honest piece. If you wish further information you can email Nick at nick@ainge1930.fsnet.co.uk or call him on 07745 902343.
15/04/2004
Update to 'Rare Square Vase' article below
Reported by:
Martin Wilkie
We have been informed that the grandfather of Joe and Paula Sturgess was actually a member of the Maddock family and owned the factory up until the late 1960's when it was taken over by Doulton.
05/04/2004
Rare Square Vase
Reported by:
Martin Wilkie

This superb example of a Myott square vase has just been sold on Ebay by Joe and Paula Sturgess. The vase measures 18cm (7 inches) tall x 14cm (5.5 inches) wide. Marked with the gold Myott crown, Made in England, Hand Painted with pattern number 9170. This vase still has its original ceramic insert (which is often missing or damaged). In good all round condition with just slight wear to the paint. Thanks to Joe and Paula for taking some extra photographs for the Club to use.
The grandmother of the family has a particular interest in Art Deco ceramics as the grandfather was employed by John Maddocks and Son as a potter.
05/04/2004
Chris Bainbridge
Reported by:
Martin Wilkie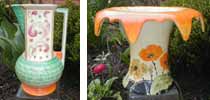 Two more great pieces of Myott unearthed by Art Deco ceramics dealer Chris Bainbridge. Far left is a square neck jug at 8 inches tall with the scrolls pattern - this is an uncommon colourway. Next to that is a rare Overflow Vase. Sadly minus its ceramic insert, the piece is also in a rare colourway.
27/03/2004
Shapes Patterns Update
Reported by:
Martin Wilkie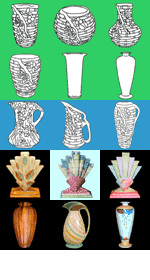 The following have been added or updated in the Shapes Patterns catalogue. Please send in pictures and details of any chicken neck jugs, fan or pyramid vases that don't currently appear. Pictures relate to the NEW SHAPES lists below top left to bottom right.

VASES
NEW SHAPES:
Basket Weave
Basket Weave Ball Vase
Basket Weave Onion Vase
Basket Weave Ribbed
Fluted
Shouldered Baluster
UPDATED: Fan Vases, Fluted, Horseshoe, Pyramid, Square, Square Planter, Tall.

JUGS
NEW SHAPES:
Apple Tree
Basket Weave Bell Bottom
Basket Weave Tall
UPDATED: Chicken Neck (Dante).
26/03/2004
DecoBosse
Reported by:
Martin Wilkie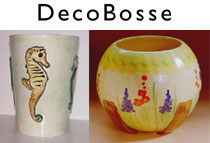 Club member Steve Dunlop has just launched his new website - DecoBosse - as part of our DecoWare group of Art Deco dealers and collectors. He is mainly selling Myott, Goldscheider Myott and Walter Bosse ceramics. He currently has the two examples pictured for sale plus a growing selection of other interesting items.
Left: Impressive Goldscheider Seahorse vase. Fantastic Deco vase made by Goldscheider and Myott. Marked Goldscheider but also with Myott. In excellent condition with no chips or cracks or repairs. A tiny bit of crazing but hardly noticeable. In a great cream and pale green colour difficult to see on the picture but very attractive. Also has 4 seahorses on it 2 larger and 2 smaller. Approx 11 inches high - a great piece for any collection.
Right: Myott Ball vase in very good condition. Approx 7 inches high 8 inches diameter. Marked P9679. Handpainted in a rare design.

26/03/2004
Leeds Armouries Art Deco Fair 21/03/04 by Nick Ainge
Reported by:
Martin Wilkie
A great venue for this popular Art Deco fair. Nick Ainge reported a good turn out with many visitors making a day out of the event. Nick had his usual vast array of Myott for sale. Nick picked up an interesting pinch top jug (must have been, as Nick usually concentrates on the high end stuff - will try to get a picture at some stage) and Mike Harewood had a nice bow tie jug and rare colourway fan vase (red and pale blue). Chris Bainbridge had a bow tie vase for sale also.
26/03/2004
Mike Harewood's new website
Reported by:
Martin Wilkie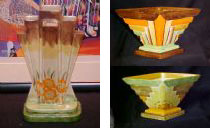 Mike garewood - Art Deco ceramics dealer - has joined our DecoWare group of websites. Mike usually has a few Myott items for sale. He has a small selection at the moment including the three items on the left. A pyramid (or Moderne) vase on the left along with the two diamond planters.

17/03/2004
Alexandra Palace Antiques Fair 14/03/04
Reported by:
Martin Wilkie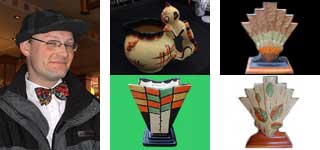 Thanks go to Paul Mitchell (pictured left) for helping Nick and myself to hand out flyers promoting the Club at Ally Pally - there have been a couple of new members as a result. Paul's hat offered maximum protection from the elements, which are particularly ferocious atop the hill where the Palace is situated.
The notable Myott piece at the fair was a super-rare cat handle jug (pictured middle column top) sold by Rick Hubbard for £1400. The jug had restoration to the spout and a restored hairline to the base, but one can't be choosey where these pieces are concerned. Rick said he had only come across 4 pieces in the 20 years he has been dealing in Art Deco ceramics. Rick also sold a square vase similar to the one pictured middle column bottom (this example is from the Club catalogue). Chris Bainbridge and Kim Hughes had a number of Myott items for sale, including the 2 fan vases on the left for sale by Chris. Thanks to the above dealers and also Myott specialist Nick Ainge for joining our leaflet drop which helped spread the cost of the printing.
16/03/2004
Myott for Sale
Reported by:
Martin Wilkie
I have uploaded some new Myott pieces for sale on my website. You can either use the 'Search for Myott' link above to view them or go to my website at http://www.myottmart.co.uk and look at the 'Items for Sale' link.
03/03/2004
Fair reports by Nick Ainge
Reported by:
Martin Wilkie
Donnington, Saturday 28th very little Myott - 1 tatty diamond planter in very nice
pattern though - orange, grey, black with strong Art Deco tall trees pattern, badly faded and oxidised. 1 Pinch jug in nice pattern but brown quite badly flaked.
Stafford, Sat 28th - 1 Doric green orange and brown, quite nice but too dear
for me and not special enough. 1 sweet little squat vase in purple, green,
blue , yellow. I had a pair before and I had to have this one.
Warwick - 1 Jester usual pattern, 1 Chicken (uninspiring pattern), 1 Doric orange
slice pattern (didn't buy as have this pattern available for sale), 1 Square neck jug, quite ordinary and poor condition.
Tough going, although I heard Woking ok probably due to Kim I guess. I am at Chiswick this Sunday and Leeds 21st.
03/03/2004
Report by Valenciablue
Reported by:
Martin Wilkie
Very quiet on the Myott front at present. The last Decofair at Chester
Racecourse was terrible, there was nothing to report. I have also done a couple of local fairs but no Myott to report on at all.
03/03/2004
Woking Art Deco Fair 29/03/04
Reported by:
Martin Wilkie

Art Deco ceramics dealer Chris Bainbridge sold a nice round jug with the tulips pattern (6.5 inches tall, pattern number B.G. 92) and subsequently purchased a super little trumpet jug with a bright, well-painted pattern, and also a nice bow tie jug from Kim Hughes. Pictures were taken for a leaflet drop at Alexandra Palace on the 14th March. Hopefully a few more Club members will result and more interest in Myott generated with the help of Chris, Kim and Nick Ainge. 2 new members joined at the weekend and we have just received an enquiry from another possible member.
03/03/2004
Update to Battersea Beaky article below
Reported by:
Martin Wilkie
Nick Ainge's rare Beaky jug has now sold. If you own a Beaky please send in pictures and details of size and marks, so we can build the Beaky catalogue. Owners will remain anonymous.
15/02/2004
Battersea Beaky
Reported by:
Martin Wilkie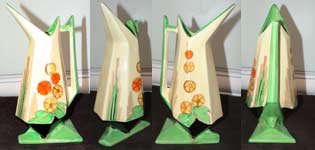 Hogging the limelight at today's Battersea Art Deco fair was this extremely rare Beaky or Penguin jug in the hollyhocks pattern, in super condition with just the tiniest 'dink' to the foot corner. A bit of light crazing, this is a great example of Myott's original Art Deco design. Whilst taking photos of the piece a lady came up to Nick Ainge (the seller) and showed particular interest. She had been collecting Myott for a while and had some great photos to show us. I almost fell over when I noticed one was an example of the rare cat jug. Excitement took over as she then proceeded to buy a nice bow tie jug and the balloon trees lemonade jug and beaker that was dominating the top shelf of Nick's display. I think we may have another member to the Club team here!
Quite a bit of Myott round the hall - a nice pair of fan candle sticks with lilac flowers, a few trumpet jugs and some fat lady jugs.

09/02/2004
Nick Ainge Report
Reported by:
Martin Wilkie
Nick Ainge, Myott specialist dealer, has sent in this news article about his recent successes at fairs. There are details at the end of the article of future events he is attending. You can always find a wide selection of quality Myott on Nick's stand.

Loughborough Art Deco Fair News
Very successful fair with regard to Myott sales. Pieces sold include: a diamond planter - yellow flowe patternr, a turquoise balloon tree square neck jug, a square vase - pastel blue with insert, a pink and blue check diamond planter, a classic jug with the Club logo pattern (in top corner of this page), a large square neck jug with interesting brown sponged effect with flowers, an overflow spill vase with insert, an overflow spill bowl and a bowtie jug - autumn pattern.

Southampton Art Deco Fair News
A very busy fair, Nick found a nice geometric bowl now on ebay. Nick sold: a pink and blue Torpedo vase, a brown and orange castle vase, a blue flower Moderne vase (pyramid), and an orange green Moderne.
Nick says "Lots more items are on the way including about 5 Fan vases! Handed out lots of Myott club leaflets and still trying to drum up new Club recruits. Interest
strong and impact high, Myott really catches the eye, collectors just need educating, Club and book help."

Twickenham Art Deco Fair News
Nice fair. Good to meet an overseas Club member there.

Nick's next fairs are Battersea this Sunday, Bristol 22nd, Warwick 29th, Chiswick March 7th.
29/01/2004
New Myott Search Page
Reported by:
Nick Sugden
We have added a new search feature to the site. Look in the navigation at the top and you will see (in the underlined links) 'Search for Myott'. This takes you to a page that searches the DecoWare catalogue for Myott items for sale. You can narrow down the search by putting extra criteria in the search field. If you are looking for a wider range of Art Deco items then visit the main DecoWare website where you can search the whole catalogue. http://www.decoware.co.uk
27/01/2004
News section restructured
Reported by:
Nick Sugden
As our regular readers will notice we have moved things around slightly in the news section. The news page was getting rather large so we have created a set of archives - one per year. None of the news items have been removed. Use the links on the left to view old news articles.
20/01/2004
Duchess Dressing Set
Reported by:
Martin Wilkie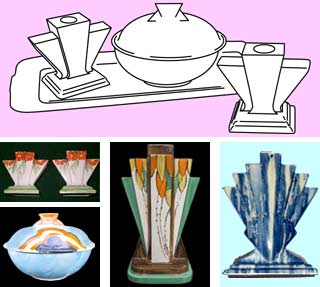 Another 'tasty morsel' from author Andrew Casey. In Andrew's words "The novelty set called Duchess for the dressing table from about 1933-34 consisted, and I quote "of a tray, a puff bowl and a couple of modernistic candlesticks. These little candlesticks were in fact suggested to the mind of Mr Finch by the already popular Moderne & Fan vases, being of similar style, in miniature." I think there is a pic on your site of these! I bet the set looked really good on a walnut veneer dressing table."
Mr George E Finch was the man in charge of the London showroom at Fearon House, 39 Holborn Viaduct. He was in charge of Myott, Bretby and others.
So we have another original term for the dressing set as 'Duchess'. Also confirmation of, what we commonly term as pyramid, finger or star vase as 'Moderne' and the fan vase's name unchanged over the decades. The pictures show an illustration of the Duchess dressing set with pictures of the puff (or powder) bowl and a super little pair of 'fan' candleholders. The Moderne and fan vases are pictured bottom right. The rare moderne vase with the strong Art Deco pattern is currently for sale. It's in very good condition apart from a small chip to the top of the central finger. Thanks once again to Andrew Casey for the interesting information his research has churned up.
18/01/2004
Jubilee Cider Set UPDATE
Reported by:
Martin Wilkie
The Jubilee cider set articled below sold at Alexandra Palace antiques fair on 17/01/04.
18/01/2004
Alexandra Palace Antiques Fair
Reported by:
Martin Wilkie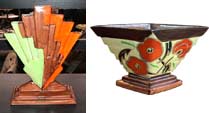 Notable pieces of Myott at the fair were the rare pattern diamond planter and a super fan vase with a great Art Deco geometric pattern. Both pieces were available from Art Deco ceramics dealer Chris Bainbridge. The fan vase sold on the day, but may be back on the market soon (will keep you posted on that one!).
13/01/2004
Hugh Myott
Reported by:
Martin Wilkie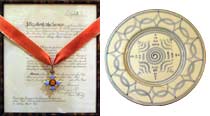 Thanks go to Hugh Myott, the great nephew of Ashley Myott, the founder of the Myott pottery, for sending in these interesting pictures. The medal on the left is the actual C.B.E. awarded to Hugh's uncle in 1953 in recognition of his dedication shown towards the pottery industry. At this time Ashley was President of the British Pottery Manufacturers Federation. The award was passed to Hugh via his father (Richard Myott) and his father (Edgar Myott) who was Ashley's younger brother.
Also enclosed was a picture of a plate which Hugh believes was produced especially for Edgar Myott and his wife Irene who ran tea rooms at Churches Mansion in Nantwich Cheshire. There would have been teapots jugs and cup & saucers in the same pattern, but as far as Hugh knows none others have survived. If you own this pattern then Hugh would be very interested in finding out more about these wares.
11/01/2004
Jubilee cider set
Reported by:
Martin Wilkie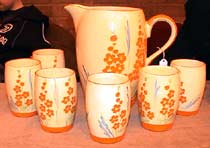 Art Deco and ceramics author Andrew casey has discovered another original term for the cider set pictured on the left. An article from the Pottery Gazette dated 1st November 1935 refers to a Jubilee set. We normally call this a lemonade set but it seems it was originally produced for cider. There was no picture in the Gazette but we are assuming that it referred to this shape as the alternative drinks jug is called the Doric - also found by Andrew. Andrew is currently working on an article about Myott for Collect It Magazine. Details of the issue will be posted on the news.
The pieces in the picture were taken at Woking Antiques and Collectors fair from the display of Kim and Carol Hughes. If you are interested in the set then you can call Kim on 07788 413423.
11/01/2004
Woking Antiques and Collectors Fair
Reported by:
Martin Wilkie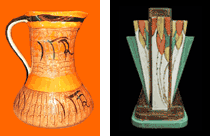 Kim Hughes was again in attendabce at the Woking fair with a good selection of Myott for sale. Most notably there was a rare 11 inch tall advertising ITR pinch neck jug (pictured on the left). This massive 'beast' is in very good condition with just a few minor paint flakes. Kim is selling this piece along with the medium and small versions of the other 3 sizes in the range.
Sold by Kim on the day was a super pyramid vase (also pictured). This piece is also very scarce and displays a super Art Deco pattern.
Not much else at the fair - just a few pinches and common trumpet jugs.