Conical Jug
Blue Flowers 8496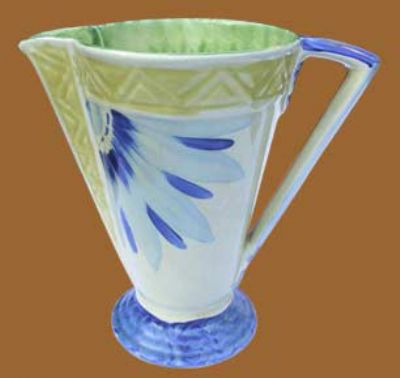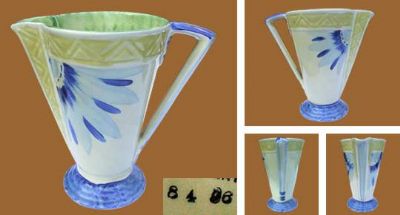 Marks: Gold MYOTT crown (Type I), HAND PAINTED, MADE IN ENGLAND (in russet colour).
Colours: Lilac, Pink & Blue.
Dimensions: Conical Jugs were manufactured in the following 3 sizes:



SMALL: 18cm (7 1/8 inches) - YES.

MEDIUM: 21.0cm (8 1/4 inches) - Member confirmation required.

LARGE: 22.5cm (8 7/8 inches) - Member confirmation required.

Description:
Blue, pale blue quarter flower below pale yellow rim moulding to pale yellow spout. Pale blue striped handle with blue top and stripes to handle base and attachment. Blue base and green inner rim.
Rarity:
Uncommon.
Price guide:
£50 - £100 each
Variations:
If you own an example of this piece that displays a significant variation please supply details and pictures.
Notes:
If you have any comments to make on this piece please supply details.